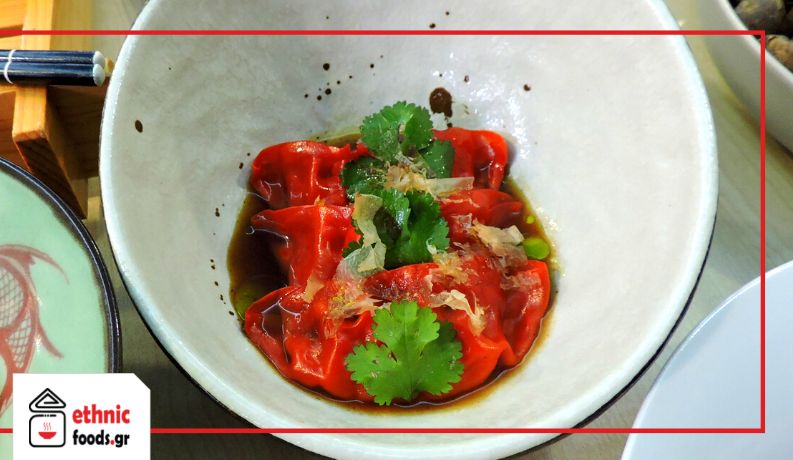 Gyoza With Shrimp, Chicken and Ponzu Sauce
GYOZA
Frozen Shrimp Gyoza – Shrimp Gyoza 13,5g ALLGROO
Frozen Vegetable Gyoza – Vegetable Gyoza 13,5g ALLGROO
Gyoza Chicken frozen – Chicken Gyoza 20g MARUMATSU
Frozen Vegetable Gyoza – Vegetable Celery Gyoza 20g LUCKY
Base for dashi broth – Dashinomoto SHIMAYA
INSTRUCTIONS
Depending on the type of gyoza, the cooking methods are as follows:
Deep fry in a fryer for about 2 minutes
Boil the gyoza for about 3 minutes
Cook the gyoza for about 5 minutes
Sauté the gyoza in a pan with fat only on the side of the base. Then extinguish with dashi broth, cover the pan and cook the gyoza on steam.
Serve with ponzu sauce.
---
PONZU SAUCE - PONZU SAUCE
INGREDIENTS
500g Rice Vinegar - PEARL RIVER BRIDGE Rice Vinegar
1000g Lime juice
1000g Soy Sauce - YUMMYTO Soy Sauce
500g Yuzu Juice - GLOBE GOURMET Yuzu Juice
45g Ex. Bonito Flakes - GLOBE GOURMET Katsuobushi Bonito Flakes
INSTRUCTIONS
Mix all the ingredients, infuse for 15 minutes and then strain the sauce.