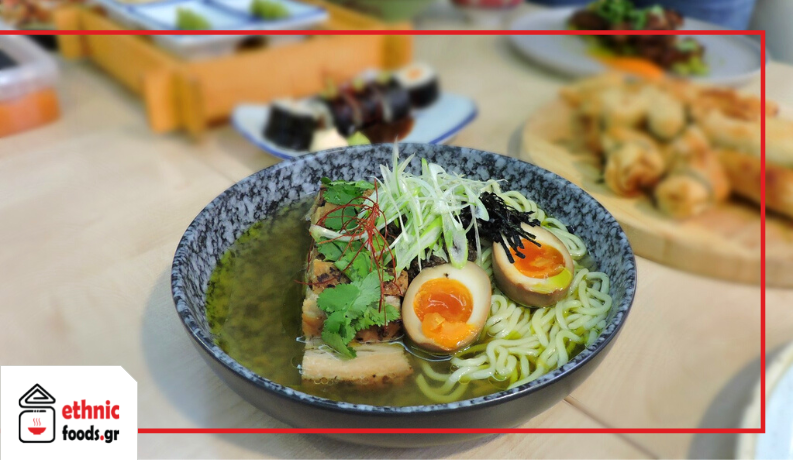 Ramen Soup With Pancetta Presonada, Fermented Soy Egg
RAMEN BROTH
INGREDIENTS
100g Dried Shitake Mushrooms - Dried Shitake Mushrooms LUCKY
100g chives
300g leeks
50g seaweed - Konbu SEAFOOD MARKET
5 lime leaves - Kaffir Lime LeavesFLOWER BRAND
10g galagal root - Galangal Root FLOWER BRAND
100g topinambur
3 lt water
Variation for Miso Ramen: Add 10% light colored miso paste
Variation with chicken bones: Add 200gr chicken bones and cook on low heat for about 4 hours.
---
PANCETTA PRESSER
Marinate the pancetta with salt, thyme, pepper and wrap with wet greaseproof paper and aluminum foil.
Place them in a deep pan and with liquids up to the middle. Bake them overnight at Racional at 130 ° C.
Then freeze them in the refrigerator by weight.
FERMENTED SOY EGGS
INGREDIENTS
Eggs
1 liter Light Color Soy Sauce - Superior Soy Sauce Light PEARL RIVER BRIDGE
20g Dasi broth base - Dashinomoto SHIMAYA
Black garlic
INSTRUCTIONS
Boil the eggs for 6:15. Then we clean them and throw them in the soy sauce.
---
MUSHROOM PASTE
---
NOODLES RAMEN